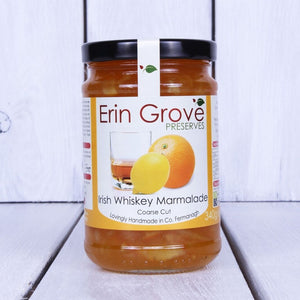 Lovingly made by hand in Co. Fermanagh; bursting with flavour and containing at least 56 g of fruit per 100 g, Erin Grove Preserves Irish Whiskey Marmalade is a coarse cut marmalade that has been given a little extra kick with a touch of Irish Whiskey.
Serving Suggestion: Irish Whiskey Marmalade is wonderful on toast or as an ingredient for an extra special, delicious marmalade pudding.
Please note: Irish Whiskey Marmalade must be refrigerated and should be used within 4 weeks after opening.
Ingredients: 
Oranges, 15%
Lemons, 11%
Irish Whiskey, 2.5%
Cane Sugar