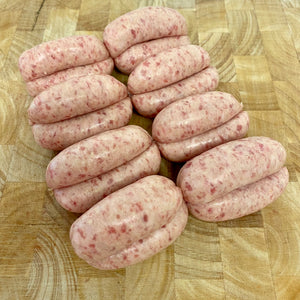 Our award winning pork sausages handmade in cocktail size.
Award winning pork sausages made to an old recipe that is a Belfast favourite.
Filled into thinner casings and linked short there are approximately 18-20 to 500g
We hand make all our own sausages in small batches in store daily using the best quality ingredients to ensure quality. From premium quality pork to high quality seasoning all encased in natural casings there is nothing synthetic or factory made about these sausages.
Ingredients
67.5% Pork, Breadcrumb, Seasoning
Allergens
Gluten, Sulphites
Energy: 1336 kJ/ 322 kcal

Fat: 27.4g, of which Saturates: 10.1g

Carbohydrate: 5.7g, of which Sugars: 0.3g

Fibre: 0.3g

Protein: 13.3g

Salt: 1.75g