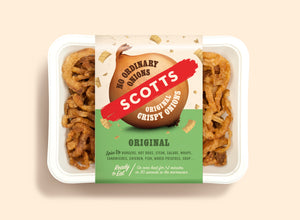 Scotts crispy onions.
Sliced onion, coated in seasoned flour and cooked in rapeseed oil, it gives you the perfect crunch, texture and moreish flavour.
These are the perfect complement to any meal or dish or simply use as a snack for dipping. Hand made from beginning to end they ensure restaurant quality and consistency in each tray. Crispy, flavoursome and lots of texture you'll be sure to bring any mediocre meal to life. Truly addictive!