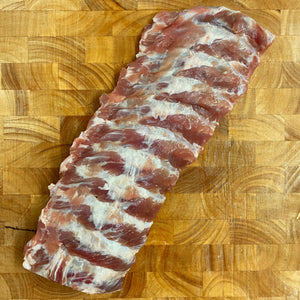 Dry cure bacon ribs are cured in house by us, made to our own speciality recipe.
These are perfect for lentil soup.
To produce it we select the best pigs from local farmers and cut the pork to our specification before curing. Once cut the special recipe curing mixture is hand rubbed on the cuts of pork and laid down to cure and slowly absorb the special blend of salts and sugars to develop a full flavour. After the right time has passed and not a moment too soon the bacon is hung to mature. During this time strong flavours mellow and new ones blossom to create the perfect balance.