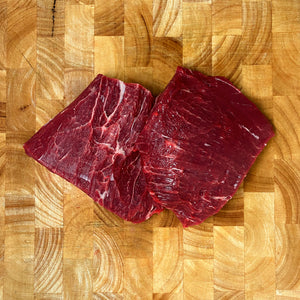 Dry aged Flat iron steak cut from our premium grass fed cattle.
250-300g
Prized for its intense beefy flavour and firm texture. Tender when cooked no more than medium, though best enjoyed medium rare. To achieve this rub with a little oil and salt well then place into a dry smoking hot pan for approximately 4 mins each side, then rest in a warm place for a further 4 mins before serving.
Pairs perfectly with a creamy pepper sauce.
Energy: 757 kJ/181 kcal

Fat: 8g, of which Saturates: 3g

Carbohydrate: 0g, of which Sugars: 0g

Fibre: 0g

Protein: 20g

Salt: 0.12g