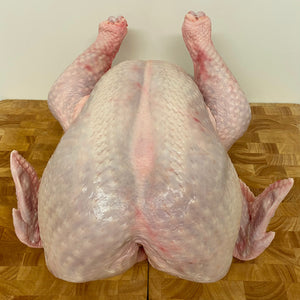 Whole Free Range Bronze Turkey
All our free range turkeys are grown for us using traditional farming methods in Randallstown, where they are allowed to roam freely in outdoor pasture and naturally ventilated barns with plenty of space and fresh air. 
We select slow growing breeds such as "Wirral supreme" and "Wold" which grow to maturity over several months and feed on locally grown cereals and vegetable protein. 
Once slaughtered the birds are dry plucked with wax before being dry aged under refrigeration for at least fourteen days to develop an even fuller flavour. 
Turkeys are available whole or boneless and can be stuffed with our homemade stuffing made using our award winning pork sausage meat. 
Size Guide
Our recommendations are based on portions we would take home for ourselves, so you can be sure they don't skimp! 
Use these guides for any turkey product to determine the required size before any bones are removed or stuffing added.
Weight in kg
Weight in lb
Servings
4-4.9kg
9-11lb
3-4 portions
5-5.9kg
11-13lb
5-6

p

ortions

6-6.9kg
13-15lb
6-8

p

ortions

7-7.9kg
15-17lb
8-11

p

ortions

8-8.9kg
17-19lb
11-13

p

ortions

9-9.9kg
19-21lb
13-15

p

ortions

10-10.9kg
22-24lb
15-18

p

ortions

11kg+
24lb+
18+

p

ortions
Please note our recommendations are based on average single servings, if you would like larger servings or leftovers please select the next size up. If you would like the joint to serve your family across two days or more ensure you select the total number of people, e.g. 6 people for 2 days = 12 servings (8-8.9kg).
Please place your Christmas order for whole turkeys by 1pm on Saturday 9th December to guarantee weights. Available weights after this date will be shown.