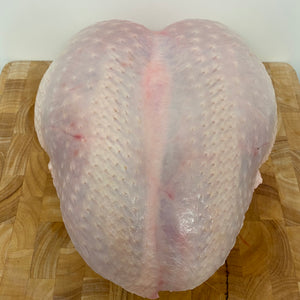 4-5kg free range turkey crown on the bone.
Ideal for those who particularly enjoy the white meat, this is a whole breast on the bone, without legs or wings.
Has some of the bone in turkey feel & presentation without the fuss of the legs.

All our free range turkeys are grown for us using traditional farming methods in Randallstown, where they are allowed to roam freely in outdoor pasture and naturally ventilated barns with plenty of space and fresh air. 
We select slow growing breeds such as "Wirral supreme" and "Wold" which grow to maturity over several months and feed on locally grown cereals and vegetable protein. 
Once slaughtered the birds are dry plucked with wax before being dry aged under refrigeration for at least fourteen days to develop an even fuller flavour.