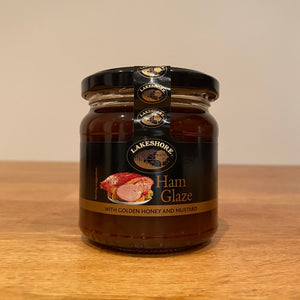 Lakeshore Ham Glaze 185g
This delicious ham glaze is made with honey and mustard and transforms a plain boiled ham to a perfect, flavour-full roast ham.

This honey and mustard glaze will also make a great addition to pork and chicken.

Instructions: For a delicious festive ham, boil in the usual way (20 mins per pound)
Remove skin (if any) and score fat (if any) in a diamond pattern. Spread generously with Lakeshore Ham Glaze, stud with whole cloves and bake for 20-30 minutes at 200C (400F) until golden brown.