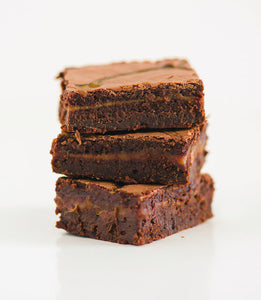 We think these brownies are pretty fudgin' awesome! Chocolately, fudgey goodness with a creamy salted caramel, our brownie comes as a whole slab in a foil tray - perfect for heating in the oven and ready for you to portion. Just add ice-cream for a killer dessert!
Pre-heat the oven to a 160 degrees celsius, let the brownies warm for 10-15 minutes or to your liking. Delicious served warm with ice-cream
The Salted Caramel Brownie is provided as whole slab for you to cut. Each slab is approximately 12 x 20cm.
Portion as you see fit but as a guide each slab can produce the following:
6 generous dessert portions (6.5 x 6cm each)  
18 snack size portions (3.3 x 4cm each)