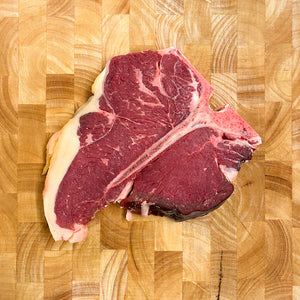 Dry aged T Bone steak cut from our premium grass fed cattle.
Giving you the best of two worlds you get beautifully tender fillet and beefy flavoured sirloin all together in the one steak.
A 500g T-bone typically serves one and is best seared in the pan or on the BBQ. A 1kg T-bone is the perfect size for sharing between two and is outstanding when reverse seared.
Pairs perfectly with a creamy pepper sauce.
Energy: 791 kJ/ 189 kcal

Fat: 8.7g, of which Saturates: 3.7g

Carbohydrate: 0g, of which Sugars: 0g

Fibre: 0g

Protein: 26g

Salt: 0.17g
Sending this as a gift? Don't forget you can add a personalised note during checkout.