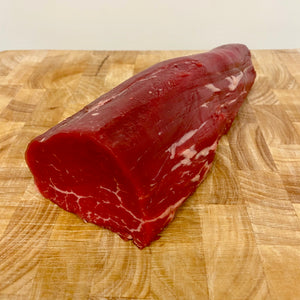 Dry aged beef fillet cut from our premium grass fed cattle.
Prized for being the most tender of steak cuts with a delicate beef flavour. This makes for an indulgent roast and is perfect for beef wellington.
This is best served rare or medium rare, don't leave it to chance and make sure you've got it spot on with a thermometer.
Energy: 757 kJ/ 181 kcal

Fat: 8g, of which Saturates: 3g

Carbohydrate: 0g, of which Sugars: 0g

Fibre: 0g

Protein: 20g

Salt: 0.13g