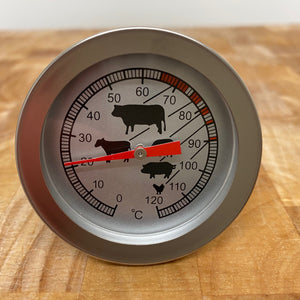 Cook everything to perfection and take the guessing out of it with this meat roasting thermometer in stainless steel with 45mm dial.
durable stainless steel
clearly marked dial
range 0 to 120°C
Can be used inside the oven
Having a cooking thermometer to check the temperature of your meat is essential for food safety. This simple meat roasting thermometer is clearly marked for beef, lamb, pork and poultry so it's easy to ensure your meat and roasts are properly cooked.
This stainless steel food temperature probe indicates temperature over the range of 0 to 120 °C in 1 °C divisions.
The meat thermometer incorporates a large 45 mm analogue dial with a 1 °C resolution. No batteries or setup are required.
For the most accurate temperature measurement, insert the temperature probe into the thickest part of the meat or poultry, avoiding any bones. The instrument reading may take a few seconds to stabilise.