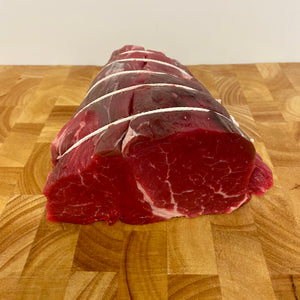 Dry aged beef fillet cut from our premium grass fed cattle.
Prized for being the most tender of steak cuts with a delicate beef flavour. Cut from the thick end of the fillet usually weighing between 750-1000g this makes for an indulgent roast and is a perfect roast to share.
This is best served rare or medium rare, don't leave it to chance and make sure you've got it spot on with a thermometer. We like to cook this using the reverse sear method.
Energy: 757 kJ/ 181 kcal

Fat: 8g, of which Saturates: 3g

Carbohydrate: 0g, of which Sugars: 0g

Fibre: 0g

Protein: 20g

Salt: 0.13g